Hello CTAE Educators! Georgia Southwestern recognizes the important role that Career, Technical, and Agricultural Educators play in developing and preparing students for life at a university. We want to be a resource for you and ask that you encourage your students to explore the opportunities at Georgia Southwestern.
Today's Lesson

Need a virtual lesson or a day to prepare for an upcoming CTSO competition or event? Then let Georgia Southwestern take over your class for a day. We have prepared a 30-minute video for you to share with your class. It discusses "Navigating the College Admissions Process" using Georgia Southwestern as the sample school. It teaches students about the options to consider and the questions to ask when trying to find a college that is right for them. Included below is a 20-question quiz/assignment with answer key for you to use. We have also developed a Kahoot! quiz if you prefer that option.
Navigating the College Admissions Process
Kahoot! Quiz Click on "Start" to begin the quiz with your class.
Bring Your CTSO to Georgia Southwestern
We are excited to host you and your students for a tour of Georgia Southwestern State University. We love having the opportunity to showcase our excellent academics and wonderful campus atmosphere to prospective students.
The tour can be formatted to fit the needs of your particular group, although they usually consist of a welcome from the Office of Admissions, a tour of campus and finally, a meeting with an Admissions Counselor. The tour will be led by student leaders. If there is a particular major associated with your CTSO, we can also try to arrange a short meeting with faculty from that department. An example would be a HOSA group meeting with our College of Nursing and Health Sciences.
Group tours can be scheduled Monday-Friday during our normal business hours. To set up your visit, call our office at (229) 928-1273 or email admissions@gsw.edu.
Reservations are required and we ask that they be made as early as possible, preferably no less than 1 week in advance. Additionally, there must be one adult chaperone for every 15 students. Requests for a school group visit should be made by a chaperone who will be accompanying the group on the tour.
If you need to cancel your group's visit, we ask that you notify our office at least 2 days in advance, if possible.
*Due to the availability of admissions staff and tour guides, reservations for group visits are limited to high school students only.
Nursing Guaranteed Acceptance Program
Southwestern offers an exciting Guaranteed Acceptance Program (GAP) for exceptional high school students interested in nursing. As you know, admission to nursing programs is extremely competitive across the nation and usually occurs during a student's collegiate sophomore year. At Southwestern, incoming freshmen are given the opportunity to apply for admission to the nursing GAP before the end of their senior year of high school. Students admitted into the GAP are assured a place in our nursing program, providing they meet the required benchmarks during the program. Currently, participation in the GAP also includes a $1000 on-campus housing scholarship, which is renewable for one year. There are two early action deadlines March 1st and May 1st. We hope you will encourage your students to apply early.
Georgia's Leading Nursing Program
In addition to the opportunity to apply for a guaranteed place in our nursing program, Southwestern also offers a leading program in one of the most technologically advanced training facilities in the nation. The link below allows you to take a video tour of that nursing facility and meet some of our students.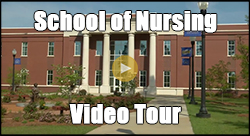 University Overview
Georgia Southwestern State University (GSW) is a world class four-year institution that offers a variety of undergraduate and graduate degrees. Located on 250 scenic acres in historic Americus, Georgia, our campus is full of culture, history, passion and prestige.
Since 1906, GSW has provided an elevated educational experience for individuals all across Georgia, from each corner of the US, and from countries around the world. That diversity means our students engage with people from all walks of life who are ready to earn their way forward. Our small class sizes foster an emphasis on faculty and student interaction, and our administration and staff prioritize academic success and a spirited college experience.
Georgia Southwestern students understand that a degree isn't given, it's earned – and they know it doesn't have to come with years of debt. Ranked as one of the most affordable colleges in the nation, Georgia Southwestern is committed to serving the needs of southwest Georgia and beyond with undergraduate programs, postgraduate programs, educational programs for high school students, and programs for technical and professional graduates.
GSW has just under 3,000 residential, commuter and online students enrolled in undergraduate and graduate programs. The University offers 40 undergraduate degrees in arts and sciences, business and computing, and education and nursing; graduate degrees in English, education, business administration, computer science, nursing; plus a specialist program in education and pre-professional programs in law, medicine, dentistry, veterinary medicine, and various allied health-care professions.
The GSW Hurricanes compete for the NCAA's Division II Peach Belt Conference, and include athletic teams in basketball, baseball, softball, golf, soccer, tennis, and cross country.
The University's mission promotes a holistic learning environment for its student body and strong community involvement for students, faculty and staff.
Contact Us
Mailing Address
Georgia Southwestern State University
ATTN: Admissions
800 Georgia Southwestern State University Drive
Americus, GA 31709
United States of America
Undergraduate Admissions
Toll Free: 1-800-338-0082
Phone: 229-928-1273
Email: admissions@gsw.edu
Director of Recruitment and Admissions
Jonathan Scott
Email: jonathan.scott@gsw.edu