Features
Georgia Southwestern ceremony kicks off $3.4 million Academic Center for Excellence renovation
On Friday, December 13, GSW held a ceremony to celebrate the beginning of renovations to the Academic Center for Excellence (ACE), GSW's primary advisement building.
During the ceremony, GSW President Neal Weaver thanked the legislative delegation that worked diligently to secure $3.4 million for the renovations in Georgia's Fiscal Year 2019 (FY19) budget. Two of those state legislators, Sen. Freddie Powell Sims and Rep. Mike Cheokas, were in attendance. Sen. Greg Kirk was unable to attend.
"This investment is significant - not only for the amount of money - but it's significant that this is the first real investment the state has made in this campus in over 10 years," noted Weaver. "This is an investment in Georgia Southwestern and in our region."
Originally constructed in 1962 as the University's library and classroom building, the ACE Building has long been in need of aesthetic and practical upgrades. The renovation will include modernization of the HVAC system, a remodel of the interior to meet the current needs of students, and construction of two elevator shafts – one for the ACE Building and one for the adjacent English Building.
Once renovations are complete, the building will house a number of essential student services, such as financial aid and advising offices.
"The ACE Building will dramatically change the way we interact with and support our students, particularly as they begin their journey here at Georgia Southwestern," said Weaver. "This renovation will allow us to house every support service that students need to be successful under one roof. Students will be able to get the help they need in a more coordinated, cooperative way that is not broken up by office title or building location."
Read more about the ceremony and upcoming renovations here.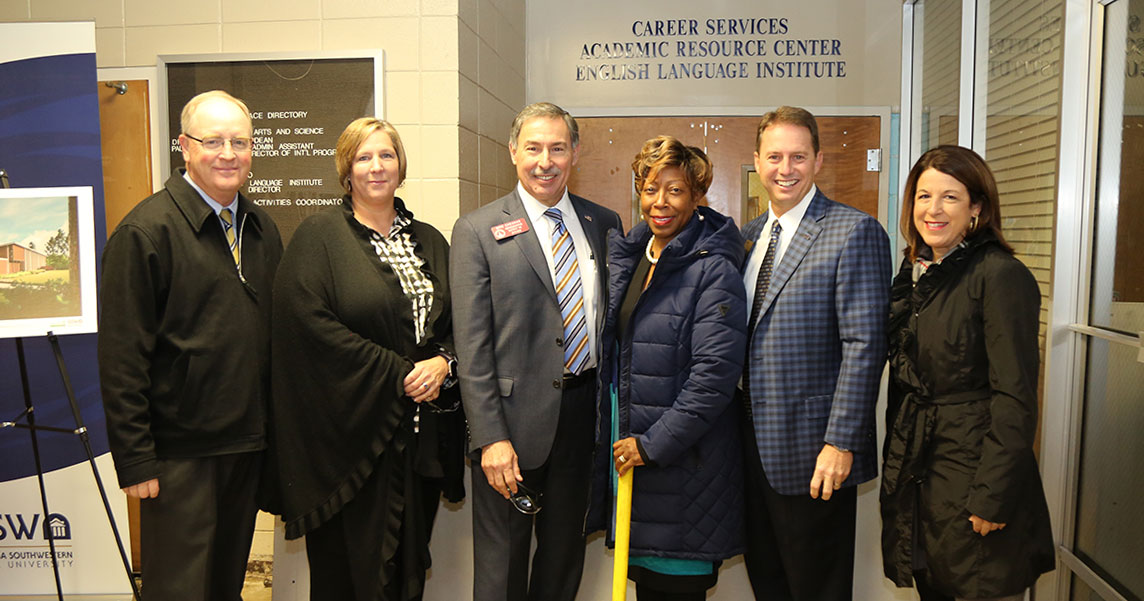 GSW to host 40th Annual MLK Convocation, Rev. Tony Lowden, pastor of Maranatha Baptist Church in Plains, to serve as keynote speaker
GSW will host its 40th annual MLK Convocation on Wednesday, Jan. 29 at 11 a.m. in the Convocation Hall of the Student Success Center. Reverend Tony Lowden, pastor of Maranatha Baptist Church in Plains, Ga., will serve as the keynote speaker. This year's theme for convocation is "One People, One Nation, One Dream." This is a Windows to the World event.
The MLK Convocation is sponsored by GSW's Division of Student Engagement and Success, Black Student Union (BSU), Strong United Assertive Virtuous Educated Women (SUAVE), Student African American Brotherhood (SAAB), Serviceable, Adaptable, Beautiful, United (SABU), National PanHellenic Council (NPHC), and Student Government Association (SGA).
Learn more about Rev. Lowden here.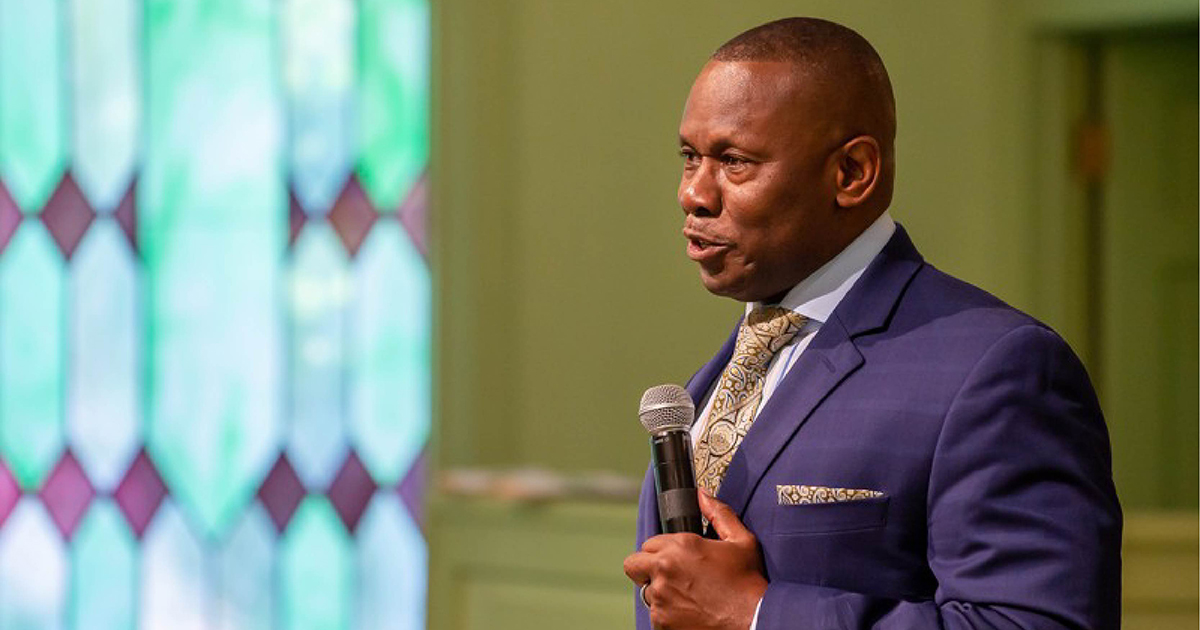 Georgia Southwestern recognizes 2019 graduates
GSW recognized the Class of 2019 on Friday, December 13 at the Fall 2019 Commencement ceremony in the Convocation Hall. Approximately 285 students received their bachelor's, master's and specialist degrees during the ceremonies, with 436 students total earning degrees this semester.
The commencement speaker for the 11 a.m. undergraduate ceremony was State Senator Freddie Powell Sims. Following an introduction from GSW President Neal Weaver, Sims spoke to the graduates about servant leadership and becoming an active part of their communities.
During the undergraduate ceremony, Georgia Southwestern also presented a posthumous degree to the family of Cole Varnum, a GSW psychology major who passed away in June 2018 due to an undiagnosed heart condition. Cole's degree was accepted by his parents, Lynn Register and Bobby Varnum, and his sister Charley Varnum (pictured at right).
The graduate ceremony followed at 3 p.m., with 150 students receiving master's and specialist degrees. GSW's Dean of the College of Business and Computer Liz Wilson, Ph.D., served as the commencement speaker.
Read more about the December 2019 commencement ceremonies here.
News
Students in UNIV 4000 study abroad in Nepal
Kailash Ghimire, Professor of Mathematics, and Keaton Wynn, Professor of Fine Arts, recently embarked on a study abroad trip to Nepal with eight GSW students for UNIV 4000: Service-Learning during the Spring 2020 winter-intersession (January 1-17). Over the course of two weeks, students participated in service-based activities, including a rebuild of a school near Kathmandu that was destroyed by an earthquake in 2015 and memorable visits to UNESCO World Heritage Sites in Kathmandu, as well as Lumbini, the birthplace of Buddha (pictured). The group visited and worked closely with students from Apex College (pictured). Students and faculty also were treated to the natural beauty of Nepal, including witnessing a sunrise on the Himalaya Mountains (pictured) and a river canoe trip.
Student participants included Amber Greenhill, Rachel Grimes, Katelyn High, Catherine Hall, Tamiah Warner, Sealy Peirce, William Griggs, and Brandon Lash Faircloth. Dr. Ghimire and Mr. Wynn co-taught UNIV 4000, and Dr. Irina Toteva accommodated them on the trip.
For more information about leading a study abroad trip, please contact Judy Orton Grissett, Director of the Office of Experiential Learning at judy.grissett@gsw.edu.
College of Education recognizes Teachers of the Week
The College of Education (COE) Teacher of the Week program recognizes effective teachers who go above and beyond the call of duty in the classroom and are supporters of GSW and the COE programs. Nominations are given by current administrators, University faculty, colleagues, and/or teacher candidates. Teachers are recognized at GSW home basketball games and presented a certificate and gift card. The January 2020 recipients include:
January 4 – Ms. Mori Harris, 5th grade teacher at Langston Road Elementary School in Houston County (pictured left)
January 8 – Ms. Regeana King, 9th grade teacher at Lee County High 9th grade academy (pictured right)
January 15 – Mrs. Addie Hart, Special education teacher at Schley County Middle High School
January 20 – Dr. Myrtice Volley, 1st grade teacher at Sumter County Primary School
Art faculty exhibit work in Macon
Several members of GSW's visual arts faculty participated in the Made in Americus exhibit at the Macon Arts Alliance Gallery. The exhibit, open January 3-24, 2020, included pieces from Associate Professor Charles Wells, Professor Keaton Wynn, Lecturer Justin Hodges, and Professor and Department Chair Laurel Robinson.
Greek Night scheduled for January 29
Wednesday, January 29 is Greek Night at the men's and women's basketball games against Columbus State University. This event is hosted by the Office of Greek Life and Leadership and GSW Athletics. Come celebrate Greek Letter Organizations and support your Hurricanes!
Music students and faculty participate in community events
The Department of Music and Dramatics Arts participated in a number of community events at the end of Fall semester. GSW's Concert Choir and the Southwest Civic Chorus performed holiday songs at the Rylander Theatre during the November 21 Downtown Holiday Open House. The Chamber Singers sang in the Plains Community Christmas Sing on December 1. GSW music students Leah Anglin and Hannah Pendergrass and faculty members Dr. Julie Megginson and Beau Palmer performed with the Albany Symphony in "Hansel & Gretel" on December 14.
Publications
2019 Aeolian now available
The 2019 issue of the Aeolian magazine is now available! The magazine is published annually by GSW's Department of University Relations in an effort to communicate alumni and university news and upcoming events. The 2019 cover story features Ervin Anderson, who recently retired from GSW after 34 years as a math professor and AAMI advisor. Sisters and fourth generation GSW students Autumn and Anna Tripp are highlighted in the Family Tradition story alongside their parents, grandfather, and great-grandmother. Also included are campus updates from the past year, athletics features, GSW alumni in the news, a Homecoming 2019 recap, alumni class notes, the 2018 Outstanding Alumni Award winners, and much more!
The name Aeolian is Greek and derives from Aeolus, the mythological keeper of the winds; an allusion to our Hurricane athletic programs. Click here to view the 2019 Aeolian and past issues.
Berggren has chapter on Carter published in U.S. presidency encyclopedia
Dr. D. Jason Berggren, associate professor of political science, had a chapter on Jimmy Carter recently published in Presidents and Presidencies in American History: A Social, Political, and Cultural Encyclopedia and Document Collection. The chapter included a timeline, biography, historical overview of the Carter presidency, and an analysis of his presidential leadership. The chapter also included select primary documents from the Carter presidency.
Berggren and Levine-Berggren publish photo images of historic synagogues
Dr. D. Jason Berggren, associate professor of political science, and Bonnie K. Levine-Berggren, an adjunct professor in the History and Political Science department, had thirteen of their photos of historic synagogues published online by the Jewish Virtual Library. The images of the historic synagogues were taken in Sosua, Dominican Republic (2016) and Bridgetown, Barbados (2017) and may be found in the section entitled, "Synagogues of the World: The Caribbean". The website is a project of the American-Israeli Cooperative Enterprise. (The historic Nidhe Israel Synagogue in Bridgetown, Barbados, in pictured here.)
Presentations
Berggren presents 3 lectures on the Trump presidency in China
In November 2019, Dr. D. Jason Berggren, associate professor of political science, made a 14-day trip to China (Nov. 9-22). While there, he delivered three lectures on the Trump presidency and the 2020 election at Southwest Jiaotong University in Chengdu, Sichuan Province. He was invited by Dr. Lin Bohai, the dean of the school of Marxism. Dr. Lin was a visiting scholar to Georgia Southwestern in Fall 2010.
Berggren lectured on Trump's political rise and the 2016 election (Nov. 12), key features of Trump's foreign policy (Nov. 15), and Trump's 2020 re-election prospects and the Democratic nomination contest (Nov. 20). The lectures were delivered before students and faculty for one hour to one and a half hours. Each lecture was followed by a question-and-answer session. This was his second academic visit to SJU. In 2013, Berggren presented three lectures on President Jimmy Carter.
During his time in China, Berggren was able to visit several historical and cultural sites in Xi'an and Chongqing, including the famed terracotta army of Emperor Qin and Xi'an's Muslim quarter and mosque. He also enjoyed the distinctive, and quite spicy, Sichuan cuisine.
Kaus presents paper at Seattle convention
Assistant Professor of English Dr. Alaina Kaus recently presented a paper at the 2020 Modern Language Association (MLA) Annual Convention in Seattle, WA. Her paper was titled "At the Intersection of Neoliberalism and Neoconservatism: Resisting an Indifferent Humanity in Mohsin Hamid's The Reluctant Fundamentalist.
New Hires, Promotions & Retirements
Former Dean of GSW School of Computing and Mathematics Boris Peltsverger announces retirement
Former Dean of Georgia Southwestern State University's (GSW) School of Computing and Mathematics Boris Peltsverger will be retiring effective January 1, 2020 after serving GSW for 22 years.
Speaking about his time on campus, Peltsverger noted his pride in the graduates the computer science program has produced over the years. "Our students are employed by companies like Microsoft, IBM, Google, and Amazon," said Peltsverger. "Although GSW is a small school, talented students can still be successful."
During Peltsverger's tenure, the computer science and mathematics programs recruited skilled faculty with practical experience in their fields. The programs have also received numerous grants over the years, including a $1.6 million grant from the NCR Corporation, a $250,000 grant from Motorola, and a $43,000 grant from the National Science Foundation.
Read more about Dr. Peltsverger's career at GSW here.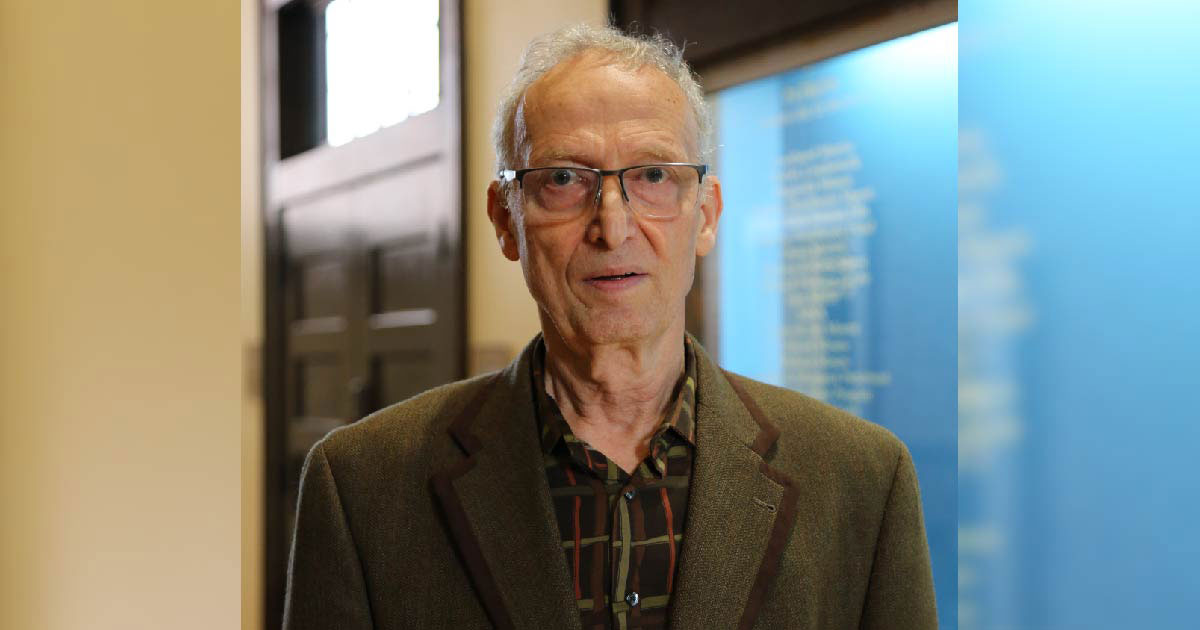 Mary Lopez joins Office of Disability Services
Mary Lopez joined the Office of Disability Services and Testing Center on January 6, 2020. Mary is a retired school teacher and serves as an assistant for Disability Services and GSW's Testing Center.