Features
Georgia Southwestern and PCOM Georgia partner to graduate pharmacists sooner
Aspiring pharmacists who are students at Georgia Southwestern will be eligible to earn a Doctor of Pharmacy degree a year early based on an articulation agreement signed by GSW and PCOM Georgia.
"We are excited about this new partnership and the opportunity it provides for our students who are interested in obtaining a PharmD Degree," stated Suzanne Smith, Ph.D., GSW provost and vice president for Academic Affairs. "This PharmD Early Assurance Program gives them early entry into PCOM, allowing them to receive their undergraduate degree while already working towards their PharmD degree, which gives them a substantial advantage."
According to Dr. Shawn Spencer, dean of the PCOM School of Pharmacy in Suwanee, Georgia, the agreement will allow eligible students in their first year at GSW to have a seat reserved three years in advance at the School of Pharmacy so they may enter after completing their junior year of college. A win-win arrangement for all, this newly signed agreement allows students to begin their careers early while saving tuition dollars.
Read more about this new partnership here.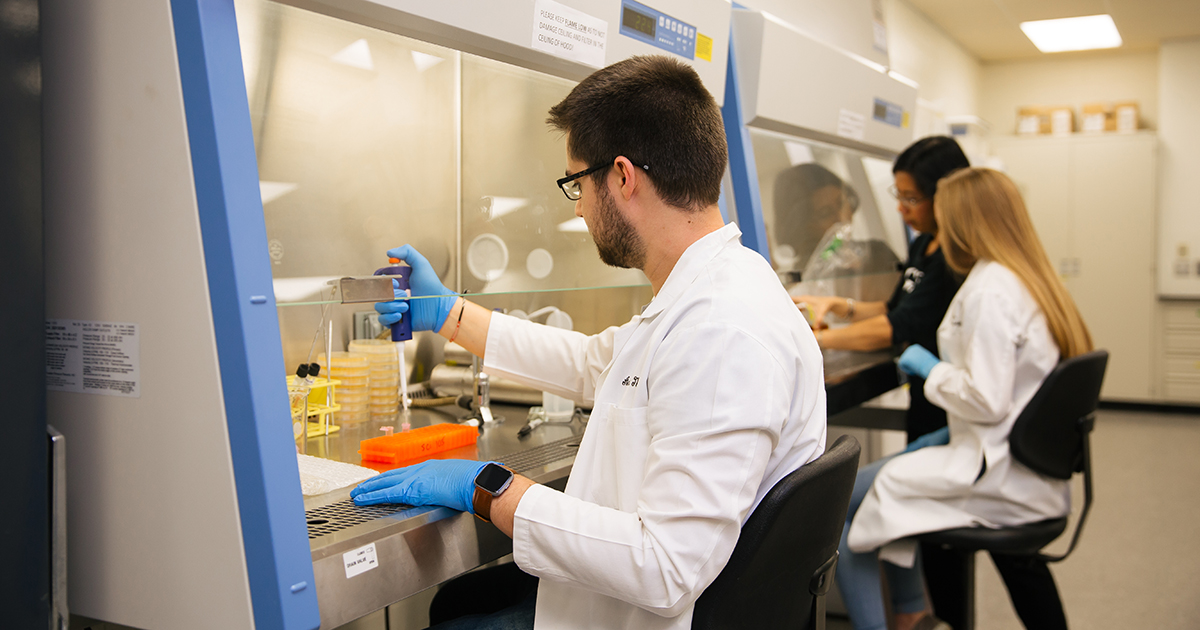 Faculty and Staff Awards recognize dedicated employees
On October 9, 2020, GSW recognized the contributions of our dedicated faculty and staff with a virtual Faculty and Staff Awards ceremony. This event, typically held at the end of Spring semester each year, had been postponed due to the COVID-19 pandemic. As President Neal Weaved noted during the ceremony, this year's awardees were nominated by their peers earlier this year, amid some of the most difficult and challenging times in higher education's history.
Those receiving awards were presented in-person to accept their plaques from Dr. Weaver. Additionally via the livestream, faculty were recognized for promotion and tenure, faculty and staff were recognized for years of service to GSW, faculty retirees that were granted emeritus status were recognized, and a moment of silence was held for the faculty and staff members that have passed away in the last year.
Those recognized as award winners were:
Excellence in Customer Service and Personal Interactions Award - Dr. Gaye Hayes
Faculty Excellence in Service Award - Dr. Ramona Mulleins-Foreman
Faculty Excellence in Scholarship Award - Dr. Alexander Yemelyanov
Faculty Excellence and Commitment to Teaching Award - Dr. Bonnie Gary
Faculty Excellence in Advising Award - Jennifer Dickens
Professor of the Year - Dr. Alanna Bowie
Oris Bryant Staff Member of the Year - Ethan Johnson
Faculty Member of the Year - Dr. Suzanne Smith
View photos of these and past winners here.
Dr. Sandra Daniel featured in Georgia Trend
Dr. Sandra Daniel, dean of the College of Nursing and Health Sciences, was featured in the October 2020 issue of Georgia Trend. The magazine's feature story, "Nursing During Adversity," covered how the COVID-19 pandemic has affected both student and experienced nurses.
The article stated that most of the state's public universities and technical colleges have two- or four-year nursing programs and work closely with health system partners to increase the number of nurses educated and trained. For example, Georgia Southwestern State University (GSW) in Americus and Albany's Phoebe Putney Health System have worked over the years to essentially double nursing student enrollment. The college's undergraduate program is now close to its 150-student capacity, with about an equal number of students in its graduate programs.
"'Our aim is to recruit from Southwest Georgia and hopefully retain them in the long run,' says Sandra Daniel, dean and professor at GSW College of Nursing and Health Sciences. 'When we went through the initial COVID impact in March, I was concerned we would either have a decrease in interest because of fear and concerns about safety or it will be appealing to future nurses. Just anecdotally, prospective students and those in our program are not seeing it as a negative. It has not negatively impacted us.'"
Read the full article online here or in Georgia Trend's digital magazine.
News
Registration now open
Registration is now open for Winter Intersession, Spring, Maymester, and Summer terms. If you have not already, review the Registration Checklist at gsw.edu/Registration to be sure you are prepared to register.
Student emails transitioning to Microsoft Office 365
IIT will migrate student email from the current Google Suite platform (Gmail) to Office 365 (O365) on Wednesday, October 28, 2020. On this day, mail routing to the students will migrate to their O365 mailbox and new mail will no longer be delivered to Gmail.
Any previous mail will remain accessible in students' Gmail accounts. Students may choose to migrate their mail from their Gmail account into their 0365 mailbox if they choose. Instructions for this mail migration process have been emailed to students and faculty & staff by Matthew Holt, Senior Systems Administrator in IIT.
Sigma Theta Tau celebrating 30 years on campus
GSW's Mu Pi chapter of Sigma Theta Tau Nursing Honor Society is celebrating its 30th anniversary this year. Mu PI inducted a number of members during its installation ceremony in 1990. The Americus Times-Recorder article below, submitted by Mu Pi, details the ceremony and local initiates.
Student Recognitions
October Canes Spotlights announced
Canes Spotlights highlight Georgia Southwestern students who hold leadership roles, are involved in extracurricular activities and/or excel academically in their degree programs. The October Canes Spotlights were:
Canes Spotlights are nominated by GSW faculty and staff.
19 students inducted into Alpha Lambda Delta National Honor Society
Nineteen students at Georgia Southwestern were officially inducted into the Alpha Lambda Delta National Honor Society on Thursday, October 1. The socially-distanced ceremony, originally planned for the spring semester, was postponed due to COVID-19 and the campus closure.
"Alpha Lambda Delta has been affiliated with GSW for many years," explained David Jenkins, Ed.D., director of First-Year Experience and advisor for the honor society, "so I am excited to revive the organization into an active chapter again. I hope it will allow the students to continue being engaged on campus and grow as servant leaders. I look forward to watching their success on campus and in the community."
The 2020-2021 inductees for Alpha Lambda Delta are:
Isabel Alcantar – Fort Valley, Ga.
Marilizabeth "Maribeth" Arthur – Americus, Ga.
Grant Auer – Midland, Ga.
Timothy "Timmy" Bryan, Jr. – Buena Vista, Ga.
Salandria Davis – Albany, Ga.
James "Jamey" Fowler, Jr. – Camilla, Ga.
Dailyn Fretwell – Leesburg, Ga.
Savannah Hall – Blakely, Ga.
Joseph Hawkins – Middleburg, Fla.
Ayianna Hopson – Loganville, Ga.
Amiyah Jackson – Cuthbert, Ga.
Natalie Land – Leesburg, Ga.
Gerald "Tripp" Larkey III – Zebulon, Ga.
Denaja Lewis – Atlanta, Ga.
Alyssa McGuffie – Dacula, Ga.
Jonathan Nguyen – Smithville, Ga.
Kacey Roberson – Tifton, Ga.
Kaiyah Vickers – Buford, Ga.
Daniel Wentzell – Leesburg, Ga.
Read more here.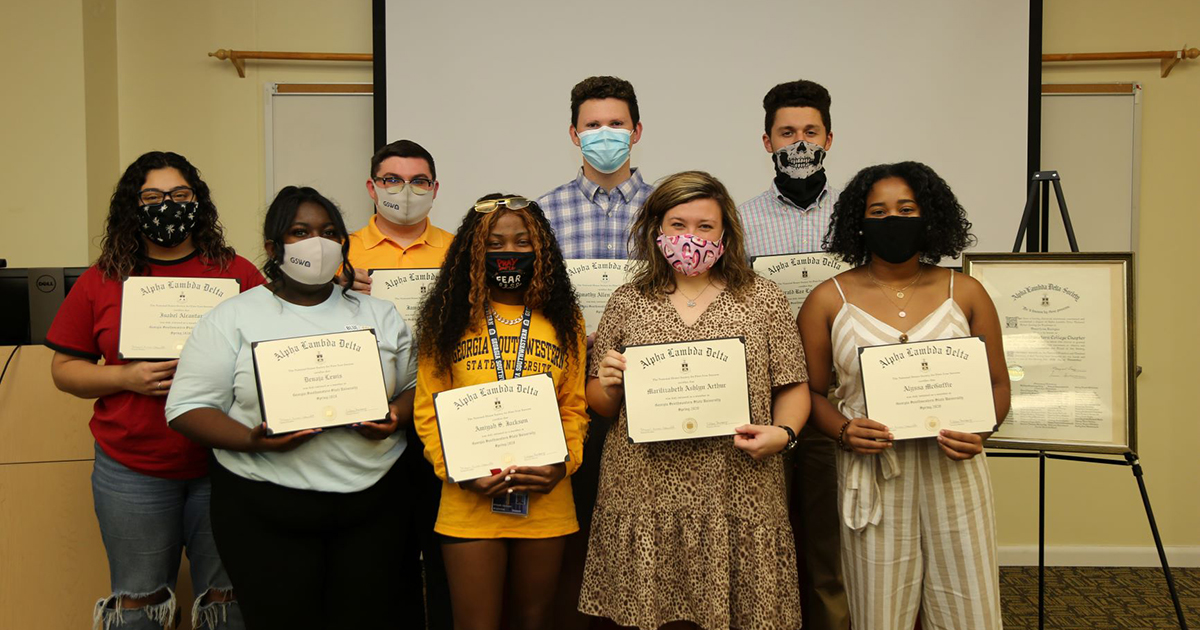 GSW SAAC Announces Executive Board
The GSW Student-Athlete Advisory Committee (SAAC) has selected their 2020-21 Executive Board and has selected women's soccer player Emma Carter as SAAC President.
Men's soccer player Jean-Pierre Merlet will be serving as Vice President; women's soccer player Ashlyn Baker will stand as the Secretary and Shannon Gibson, softball player, will handle all social media efforts this year.
"Being involved in SAAC has allowed me to create events that will bring our school community together," Carter states. "This organization is a way for us to connect with the community and school that supports and gives so much to the student-athletes."
Given the circumstances of this semester, SAAC plans to host a Make-A-Wish Foundation home run derby along with a Parent's Night Out event scheduled for November.
SAAC includes student-athletes representing all 10 sports at GSW and provides insight on the student-athlete experience. The committee also offers input on the rules, regulations and policies that affect student-athletes' lives on NCAA member institution campuses.
Kelsey Booker named AAMI Student of the Month
Kelsey Booker was recently named the AAMI Student of the Month. His major is Middle Grades Education with a concentration in Math & English Language Arts. Kelsey has consistently made the Dean's List and has been a member of the AAMI for 4 years. He is currently an RL (Residential Leader) and a member of Educators Rising and the Zephyr Recruitment Team. He has also received the Achieving the Dream scholarship for the last 3 years.
"The AAMI Program is a life-changing experience because of the nurturing, scholarship and endless brotherly love from each of its members," said Kelsey.
After graduation, Kelsey plans to work as a middle school math teacher in the Houston County area and to continue his studies to obtain his Doctorate degree to become a middle school principal.
Publications
Dehzooei advice featured on WalletHub
Dr. Mohammad Dehzooei, assistant professor of economics, was recently featured on the credit and personal finance website WalletHub. Dehzooei's advice for consumers who are considering an American Express credit card was featured in an "Ask the Experts" column. He also discussed future of 0% APR credit card offers.
Read the full piece here.
DeBaise and Grimes to be published in international journal
Amber DeBaise, lecturer of management, and Mark Grimes, assistant professor, have had a paper accepted for publication in the International Journal of Human Resources Development and Management in 2021. The paper is titled "Interviewing Peers: A Cross-Curriculum Project with HR and Communications Students."
It details a project where Grimes's HR Staffing students develop job descriptions for entry-level jobs in a fictitious company and then interview DeBaise's students in Business Communications after they have developed resumes.
Russell examines Cormac McCarthy's "The Road"
Jesse Russell, assistant professor of English, recently published "Fleck of Faith in The Road" in Dappled Things literary magazine. Read the full piece here.
Olsen featured on PBS NewsHour
Jennifer Olsen, executive director of the Rosalynn Carter Institute for Caregiving (RCI), was recently featured on PBS NewsHour. Olsen spoke with Judy Woodruff about caregiving during the COVID-19 pandemic. The RCI recently released a report called "Caregivers in Crisis," which found that over 80% of caregivers are experiencing increased stress alongside fears about a lack of medical treatments and appointments.
Watch the full story here.
New Hires, Promotions & Retirements
Hailey Henderson joins University Relations
Hailey Henderson joined the Department of University Relations on September 30, 2020 as Web Content Strategist. In this role, she will be responsible for developing and managing the overall web content strategy for the University website.
Hailey graduated from Middle Georgia State University with a Bachelor of Science in New Media & Communications in 2015. She then worked at Schley County High School for four years as a graphic arts instructor teaching Yearbook and Video Production. Within the past year, Hailey has worked on various web and marketing materials for small businesses and non-profit organizations. She currently resides in Americus, Ga.
Sandra Johnson retires from Student Financial Aid
Assistant Director of Financial Aid Sandra Johnson is retiring after 36 years in financial aid as of October 30, 2020.
Shannon Perry promoted in COBAC
Dr. Shannon Perry was recently promoted to Assistant Dean of Online Learning for the College of Business and Computing, as well as Department Chair for Computer Science. Perry serves as the GSW eMajor BBA liaison and coordinates transfer student admissions for COBAC, streamlining entrance for students participating in the eMajor BBA program.
Before joining the College of Business and Computing in 2005, Perry taught at the Heart of Georgia Technical School and Brewton Parker College, serving as the Microcomputer Specialist Program Chair and Assistant Professor Computer Programming, respectively. She holds a bachelor's degree in both Information Systems and Finance from Georgia Southern University, a master's degree with concentration in Information Systems from Georgia Southern University, and a doctoral degree in Instructional Technology and Distance Education from Nova Southeastern University. She is a member of the Dublin/Laurens County Chamber of Commerce and is active with other Laurens County local organizations.