Features
Georgia Southwestern sees highest enrollment in school history, among USG's top increases for Fall 2020
GSW's Fall 2020 total enrollment is the highest since the institution's founding in 1906 with 3,162 students. This is a 7.2 percent increase from Fall 2019, as reported by the University System of Georgia (USG) today.
"GSW's upward enrollment trend continued for Fall 2020, bringing us to the highest ever enrollment in the school's history," said GSW President Neal Weaver, Ph.D. "The entire campus is focused on ensuring student success, enhancing the overall campus experience, providing programs relevant to our economy, and graduating more students who will make a real impact in our region's workforce."
Georgia Southwestern was among the USG's top five increases across the system's 26 institutions and the second highest in state universities. Overall, Georgia's state universities saw an increase in enrollment at an average of 2.3 percent.
In addition to the overall increase, GSW also saw huge gains in freshmen, graduate and dual-enrolled students. Over 600 students represent GSW's largest freshman class, and graduate enrollment jumped from 139 students in 2014 to 528 students in 2020 growing by 279%. Another positive demographic trend is the increase among Hispanic, Asian and African American students.
Read more about GSW's enrollment growth here.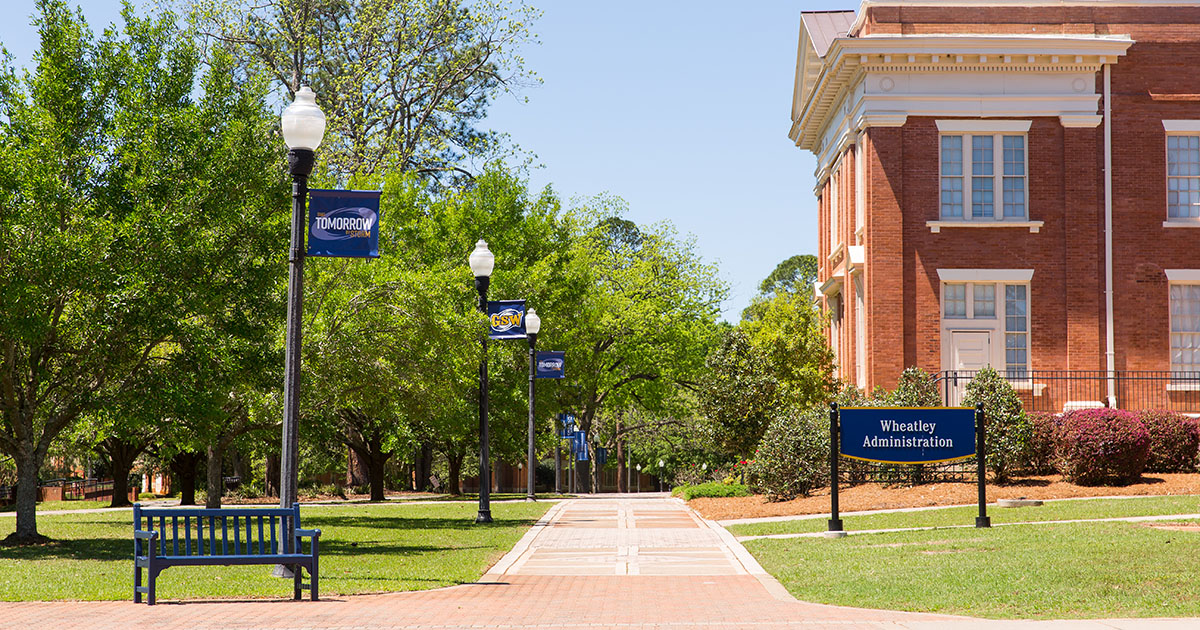 GSW announces strengthened partnership with Rosalynn Carter Institute
GSW recently announced that the Rosalynn Carter Institute (RCI) will transition from a unit to an affiliate of the institution. This move will keep the RCI physically on campus, while allowing the organization to expand its profile serving the more than 53 million caregivers nationwide.
At the same time, the RCI is also moving to strengthen its mission to place the unpaid caregiver at the center of its work by changing its name to the Rosalynn Carter Institute for Caregivers, a small shift with a significant meaning.
"This is an exciting time for the Rosalynn Carter Institute," said GSW President Neal Weaver, Ph.D. "Former First Lady and GSW alumna Rosalynn Carter is an important member of our University community, and we are happy to be a part of her efforts to reach more caregivers across the country. The RCI's success reflects our work together, and we look forward to being a part of its continued growth."
Learn more about the RCI and the transition here.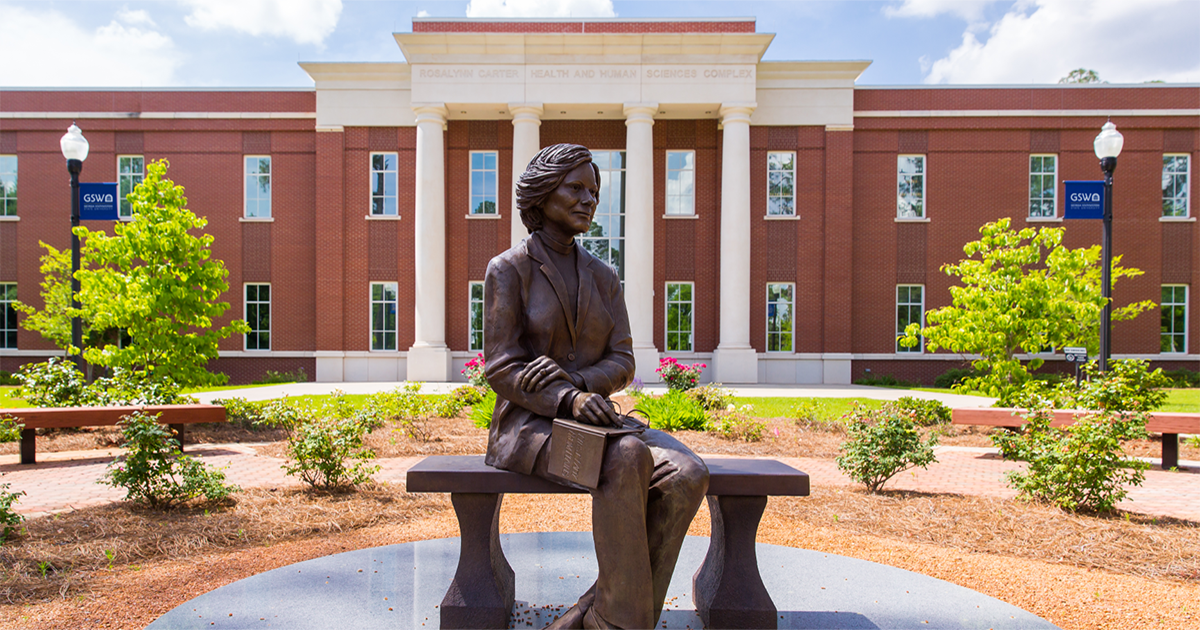 Kappa Sigma brothers at GSW shave heads to raise money for local woman battling breast cancer
The Kappa Sigma fraternity at Georgia Southwestern State University (GSW) hosted their annual Shave to Save event on Thursday, October 29, 2020 where brothers and pledges shaved their heads in order to raise money during Breast Cancer Awareness Month.
All proceeds will be donated to Angela Smith, a GSW employee and Americus Rotary Club president, who is a breast cancer survivor.
"I am completely overwhelmed, humbled and honored to be named this year's recipient of the Kappa Sigma Shave to Save event," said Smith. "I have asked that any money raised go to the Phoebe Sumter Foundation and allocated to Phoebe Sumter Medical Center's Oncology Clinic. I am so touched by this gesture from the young men of the Kappa Kappa Chapter of Kappa Sigma at GSW and hope others will consider supporting them in their fundraising efforts."
Read more here.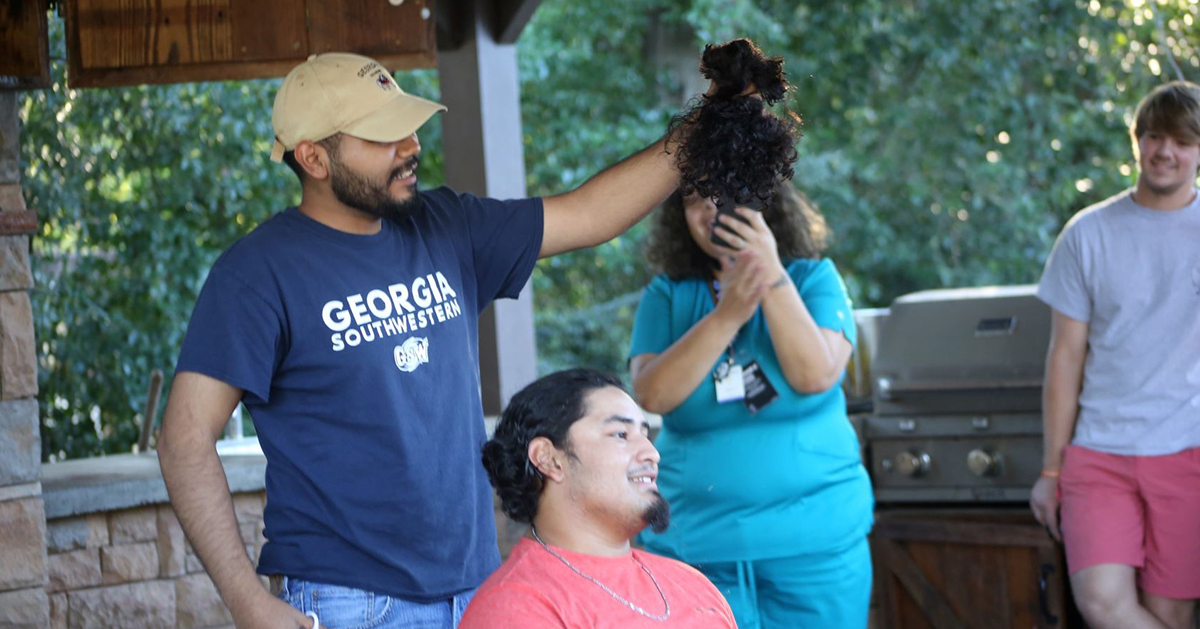 News
Holiday season brings opportunities to give back to GSW and community
This holiday season includes a number of ways to give back to GSW and the community. You can make a difference for GSW students by shopping with the GSW Foundation AmazonSmile account during the holidays.
Giving Tuesday falls on December 1 this year, and GSW is asking members of the community to give back $20 in 2020. Please consider donating $20 to the Southwestern Annual Fund to provide immediate support for our students and campus needs! Donations may be made online at gsw.edu/give, via PayPal to @gswedu, or via Venmo at (229) 931-2014.
You can also give back to our regional community by supporting SOWEGA CASA's Secret Santa program and purchasing gifts for foster care children to help make their Christmas extra special. Last year, the Secret Santa program served over 550 children in foster care in southwest Georgia with your help along with others in our loving community. Visit the online registry to view a ll the items the foster children put on their individual Christmas Wish Lists. Please place all registry orders no later than Saturday, December 5. Santa's elves will need a little time to sort gifts and double-check lists. SOWGA CASA staff and volunteers will deliver gifts in the early weeks of December. For more information, contact SOWEGA CASA at 229-931-4488.
Marketing class welcomes speaker
On November 9, 2020 the class of Principles of Marketing with Dr. Irina Toteva welcomed a special guest speaker - Brian H. Huff, President North America, Merisant Company (Whole Earth Brands, Inc), via Microsoft Teams. Brian delivered a powerful talk discussing his transition from college to the real world and the importance of marketing and professional skills in the context of his 30-year unique and dynamic professional experience. Fortunately, Brian was able to fit this meeting into his busy schedule. Right after talking with our class Brian proceeded to finalize the acquisition of a $80-million dollar company, adding another brand to the Whole Earth Brands' strong portfolio of sweeteners.
Aller works with nonprofit to solve HR needs
Dr. James Aller, assistant professor of Human Resources Management, recently partnered with Los Angeles Conservation Corp to solve HR needs.
Los Angeles Conservation Corp is a nonprofit organization that provides at-risk young adults and school-aged youth with opportunities for success through job skills, training, education and work experience with an emphasis on conservation and service projects that benefit the community. The organization transforms the lives of disadvantaged youth and communities through education and work with projects like building parks and community gardens, planting trees, refurbishing hiking trails, removing graffiti and cleaning alleyways.
LA Conservation Corps was seeking HR Consulting over the summer when Aller saw an ad regarding their needs on LinkedIn. "Their story resonated with me, and I could not get their needs out of my mind," he said.
Aller connected with the organization's Director of Administration Tamara Muzac-Bravo and HR Manager Ingrid Marroquin. "The team just worked," Aller said. "For me it was as if we had all worked together for years."
The nonprofit's needs included a review of their employment handbook to include the implementation of a few policies to include a more robust policy around handling Social Media, Attendance Management, ADA Accommodation, California LOA Compliance, and a Violence in the Workplace policy.
"I thoroughly enjoyed working with the team and will certainly make myself available for future projects or HR needs they may have," Aller noted. " I am so impressed with their organization and learning it through Tamara and Ingrid just further secured the admiration I have for LA Conservation Corps."
Fill-a-BUS-ter drive supports food pantries
Ahead of the holidays this month, the Fill-a-BUS-ter drive collected items for local food pantries. A school bus was parked on campus to collect items, which were then distributed to the Canes Harvest food pantry on campus and the Harvest of Hope food pantry in Americus. A number of student organization volunteered to man collection tables in the MSC throughout the drive.
AAMI program features alumni speaker
Christopher Fedderick, a 2013 graduate of GSW with a B. S. in Computer Science, presented a workshop, "Go Your Own Way," to the members of the AAMI Program on October 27, 2020. Fedderick is an original member of the first class of the GSW AAMI high school students that started in 2008. He gave advice on being successful, strategies for academic excellence and planning individual futures. He is currently employed with Total Systems of Columbus Georgia as a Software Engineer. Fedderick also provided information for AAMI Computer Science Majors to obtain internships at Total Systems. The workshop was a total success. He is pictured below with two of AAMI members.
Student Recognitions
Kappa Delta Pi and National Society of Leadership and Success raise funds for local children in need
GSW's chapter for Kappa Delta Pi (KDP) and the National Society of Leadership and Success organized and had a raffle ticket fundraiser in October to raise money. They created 3 gift baskets with many donations from surrounding businesses. Together the two organizations raised $588.15. The school counselors at Lee County Primary, Macon County Elementary, Sumter County Primary, Sumter County Elementary, and Crisp County Elementary schools provided a list of the students and their needs. KDP purchased items such as food, clothes, shoes, hygiene items, and school supplies. On Sunday, November 15, they packed 56 shoeboxes including a personal note in each. The shoeboxes were delivered to each school on Monday, November 16. The group had some leftover items and those items were delivered to the Boys and Girls Club – Jimmy and Rosalyn Carter Unit in Plains, Ga.
Sigma Theta Tau participates in Christmas meal project
The Mu Pi chapter of Sigma Theta Tau International Honor Society of Nursing collected boxes of stuffing for the Christmas meal boxes to be distributed by Harvest of Hope Food Pantry. Harvest of Hope serves Sumter County by providing supplemental food support to families. 120 boxes of stuffing were collected for donation. Pictured are chapter president Michelle Dykes and chapter counselor Rhonda Slocumb, faculty members in the College of Nursing and Health Sciences.
Presentations
Grissett presents at OpenEd conference
Judy Orton Grissett recently presented a lightning talk at the OpenEd 2020 conference, which was virtual this year due to the pandemic. Her talk was titled "Journeys through OER: Past, Present, and Future Understandings of OER" and was given with co-presenter Dr. Feng-Ru Sheu from Kent State University. A link to the talk can be found on the OpenEd 2020 conference webpage.
Bragg presents history research at two fall conferences
Associate Professor of History Susan Bragg presented new research on the trope of the 'girl reporter' in 20th c. American popular culture at two academic conferences in Fall 2020. On October 2, Bragg participated in the American Journalism History Association's annual conference with an essay titled, "Emma Bugbee and the 'Girl Reporter': The Mid-Century Print Culture Politics of Juvenile Literature," assessing vocational fiction of the 1930s.  Bragg also presented 'Earning a Living By the Pen':  Mid-20th c. Juvenile Literature and the Professionalization of the 'Girl Reporter'" at the South Atlantic Modern Language Association (SAMLA) on Nov. 13th. This essay focused on non-fiction career guides to journalism aimed at girls from the 1920s to the 1940s.  Collectively, this research traces how female authors encouraged girlhood ambition and supported integrating professional opportunities in the mid-twentieth century. Both essays presented in these Fall 2020 conferences emerged with support from participants in GSW's SWAG teaching circle, currently moderated by Dr. Irina Toteva.
Collins presents at virtual PRAC meeting
Chelsea Collins, Director of Marketing and Communications, virtually presented to the Public Relations Advisory Committee (PRAC) at their annual meeting on Wednesday, November 18. PRAC is comprised of public relations professionals from across all 26 University System of Georgia (USG) institutions which serves to provide feedback to and receive information from the USG office, in addition to exchange ideas amongst each other. Collins delivered a 30-minute "Best Practices" PowerPoint presentation on some of the unique things her Department of University Relations has done to promote Georgia Southwestern. This included utilizing social media in a variety of ways such as sharing GSW's history, creating custom GSW gifs, sharing campus pictures, keeping up with current trends, and specifically using Instagram Story in creative ways to reach current and prospective students. The presentation also included the ongoing work of campus branding injection which helps incite school spirit and pride, and creates an identity as a GSW Hurricane.
Berggren moderates congressional debate on campus, GSW students form question panel
On October 28, a congressional debate between Rep. Sanford Bishop (D) and Mr. Don Cole (R) was held on campus at the Nursing Amphitheater at the Rosalynn Carter Health and Human Services Complex. Jason Berggren, associate professor of political science, was the moderator. A question panel consisted of four GSW students: Wilson Evans (Political Science), Caleb Kot (Political Science), Carrington Price (Education), Dylan Wall (Political Science). The full debate is available on GSW's YouTube channel.
Awards & Grants
Scott receives Outstanding Newcomer Award
Sydney Scott, Public Relations Assistant in the Department of University Relations, received the Outstanding Newcomer Award at the annual Georgia Education Advancement Council (GEAC) Conference, which was held virtually November 18-19, 2020.
This award is presented to higher education professionals who have served less than five years in the field. All GEAC awards are based on consistent service and specific examples of outstanding performance and commitment in the field of higher education advancement. GEAC is an organization for higher education employees in the areas of alumni, development, public relations and communications at public and private colleges and universities across the state.
Scott is a GSW alumna and has worked in University Relations since January 2018.
New Hires, Promotions & Retirements
Arianna Stegall joins Residential and Campus Life
Arianna Stegall recently joined GSW as the new Fitness and Wellness Coordinator. Arianna's duties include supervising the staff for the Fitness Center, the Deriso Pool and group fitness as well as developing fitness and wellness programs for students, faculty, and staff. 
Born and raised in Corpus Christi, Texas, Arianna received her BS and MS in Kinesiology at Tarleton State University in Stephenville, Texas. She is a retired track and field athlete and loves aerobic exercises, reading, the outdoors and her two pups.
Matt Klein joins Residence Life
Matt Klein (he/him) is the new Residential Living Coordinator (RLC) in Southwestern Pines. Matt is originally from Johnson City, Tenn. He received his Bachelors of Science from the University of Tennessee and Masters of Education from the University of Georgia. Matt has also worked at Agnes Scott College, the University of California's Washington D.C. Program, and San Jose State University.
Matt is a big movie buff who typically sees about 100 movies a year in theaters, though 2020 has made this goal a little tough.
Alan Killingsworth joins Student Financial Aid
Alan Killingsworth recently joined the Office of Student Financial Aid as the Assistant Director of Financial Aid. Alan graduated from Georgia Southern University with a Master's Degree in Education in 2016, and he also holds a Bachelor's degree in Political Science from Valdosta State University. Alan previously served as Assistant Director of Financial Aid for Albany Technical College, and prior to that, he held positions in Financial Aid and Admissions at Abraham Baldwin Agricultural College's Bainbridge Campus (formerly Bainbridge State College). 
Alan was born and raised in Bainbridge, Ga., but now resides in Leesburg, Ga. with his wife Mandy, who is the Associate Director of Financial Aid for Columbus State University. In his spare time, Alan loves to read, binge on television shows, travel, and play video games.