GSW recognizes 2020 graduates across four separate, socially-distanced ceremonies  
GSW recognized Spring, Summer and Fall graduates in the Class of 2020 on Saturday, December 12 across four smaller, socially-distanced ceremonies inside the Convocation Hall. Approximately 175 graduates walked across the stage to receive their diplomas, with 726 students total earning their bachelor's, master's and specialist degrees in 2020. 
"It was a great day," said GSW President Neal Weaver, Ph.D. "This is one of the most important days of our graduates' lives, and certainly the most anticipated day on our campus, so we had to figure out a way to make an in-person graduation happen. The day may have been long, but it was absolutely worth every bit of it to honor all of our 2020 graduates with as much of a traditional ceremony as possible. I want to thank GSW's Graduation Committee who worked extremely hard over the last few months to plan and safely execute four ceremonies in one day. I think the day went smoothly, and it was apparent the graduates and their families were happy to be here."
Georgia Southwestern took many safety precautions throughout the day to hold in-person ceremonies and help ensure the safety of the graduates and their families. Face masks were required inside the building and were worn at all times, graduates were allowed up to four guests, and seating on the floor and in the stands was spaced out and marked off to meet proper social distancing protocol. The arena was also thoroughly cleaned in between ceremonies.
Read more about graduation, including the unique stories of mother and son, twins, dean and son, and a special needs graduate, here.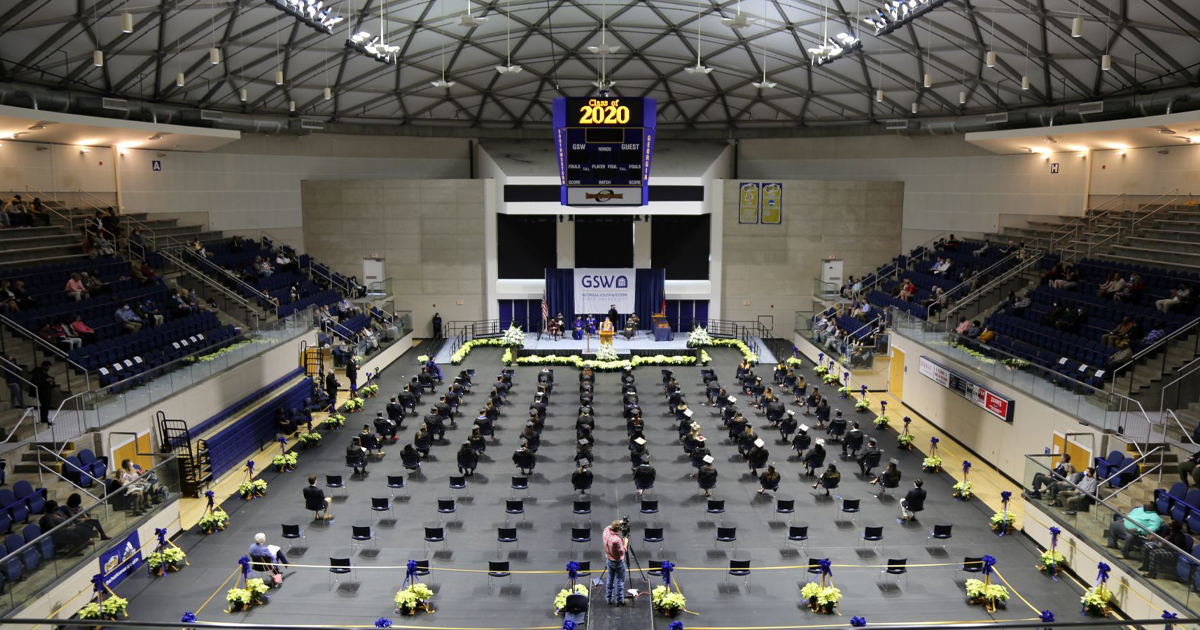 Kappa Sigma brothers honor late housemother "Aunt Mae" with endowed scholarship ahead of her birthday
The Kappa Kappa Chapter of Kappa Sigma fraternity at GSW recently brought a 40-year-old scholarship back to life to honor the memory of housemother Walter Mae Hamilton, or "Aunt Mae" as she was known to the brothers.
Aunt Mae served as the Kappa Sigma housemother for a number of years at their first house on Taylor Street in Americus, Ga.
"She was such a sweet lady," said Wes Wheeler ('70), GSW alumnus and Kappa Sigma brother. "Aunt Mae was the perfect grandmother-type. She lived upstairs, and we rarely saw her except when needed. She would come down and tell us to 'pick up the house' and 'clean up the yard.' Everyone loved her, and she holds a special place in my heart."
When Aunt Mae passed in 1982, she left money to the local chapter to establish a scholarship for future brothers. The scholarship provided tuition assistance to Kappa Sigma brothers for a few years before it dissolved.
In November 2019 at the 50th Anniversary Founders' Day meeting, the chapter announced that $3,000 would be used to re-establish the Walter Mae Hamilton Scholarship and begin an endowment through the GSW Foundation. One brother was so moved by this gesture, he impulsively pledged $5,000 of his own to the scholarship fund and encouraged others to do the same. This spontaneous gift spurred another and another, and by the end of the night, Aunt Mae's scholarship fund had jumped to $13,000.
Within one month from that evening, the scholarship became fully endowed at $25,000 with generous donations rolling in from many of the original founding members and other Kappa Sigma brothers.
Read more about Aunt Mae's scholarship fund here.