Sen. Freddie Powell Sims & GSW Dean Liz Wilson serve as keynotes
Georgia Southwestern State University (GSW) recognized the Class of 2019 on Friday, December 13 at the Fall 2019 Commencement ceremony in the Convocation Hall. Approximately 285 students received their bachelor's, master's and specialist degrees during the ceremonies, with 436 students total earning degrees this semester.
The commencement speaker for the 11 a.m. undergraduate ceremony was State Senator Freddie Powell Sims. Following an introduction from GSW President Neal Weaver, Sims spoke to the graduates about servant leadership and becoming an active part of their communities.
"Today's Georgia – today's world – is waiting for you," said Sims. "What you do and say within the communities you reside in will help them prosper and grow for many, many years to come. This great University has prepared you in some definitive way to become servant leaders."
"This University produced some of the most distinguished alumni in the world. Most notably, former President of the United States and Nobel Peace Prize recipient Jimmy Carter and First Lady Rosalynn Carter," noted Sims. "In former President Carter, I can think of no other servant leader greater than he. We want to add your names to this superlative alumni list. Embrace servant leadership."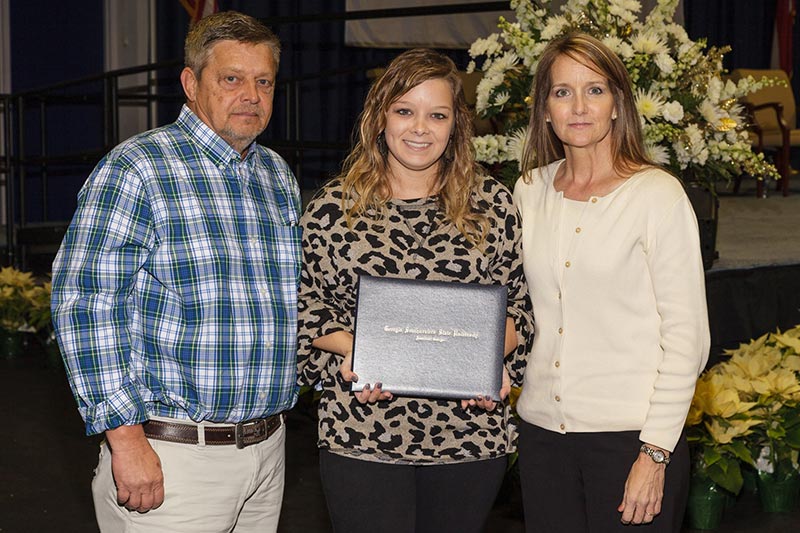 During the undergraduate ceremony, Georgia Southwestern also presented a posthumous degree to the family of Cole Varnum, a GSW psychology major who passed away in June 2018 due to an undiagnosed heart condition. Cole's degree was accepted by his parents, Lynn Register and Bobby Varnum, and his sister Charley Varnum (pictured at right).
The graduate ceremony followed at 3 p.m., with 150 students receiving master's and specialist degrees. GSW's Dean of the College of Business and Computer Liz Wilson, Ph.D., served as the commencement speaker.
Somewhat an extension of Sen. Sims' earlier remarks, Wilson's address focused on leadership.
"As graduates with your advanced degrees, your journey is a little different from the one that the bachelor graduates are embarking on," Wilson noted. "You are about to become leaders in your organizations, whether that looks like being a leader in your school or building, a nurse practitioner, administrator, an educator, or a middle or upper level manager in your organization."
Wilson went on to share a number of lessons she gleaned from her father's stories of serving on a naval destroyer during World War II. These included listening to subordinates, respecting others no matter their position, prioritizing what is truly important, and saying "please," thank you," and "I'm sorry" when needed.
"Your new advanced degree puts you in rarified air, especially here in the southeast, where advanced degrees are the exception rather than the norm. This gives you opportunities to advance your careers and to open new doors," Wilson concluded. "As you advance and go through those doors, keep your priorities straight, remember to respect those who helped you and continue to help you, and lead from the front."
Faculty Senate member and professor of English Eugenie Bryan, Ph.D., served as the Macebearer and Professor of Nursing Leisa Easom, Ph.D., served as the Grand Marshal during the undergraduate ceremony. During the graduate ceremony, professor of Computer Science Alexander Yemelyanov, Ph.D., served as the Macebearer and Professor of English Jeffrey Waldrop, Ph.D., served as the Grand Marshal during the undergraduate ceremony.
Watch the full undergraduate ceremony HERE and the full graduate ceremony HERE on GSW's YouTube channel.