The following scholarship programs are funded through the generosity of our alumni, parents, former faculty members, and friends of the University. To apply for these scholarships, the student must complete appropriate application noted for each scholarship.
Georgia Southwestern Promise Scholarship

Georgia Southwestern offers those living in the designated, local 56-county area a guaranteed $1,000 or $2,000 scholarship to all new, traditional-aged freshmen who meet the qualifications below, with no application or deadline required. Beginning freshmen who meet the criteria may renew the scholarship for up to 4 years by maintaining a 3.0 GPA and remaining enrolled full-time. Students residing outside of the designated counties are also eligible to receive scholarships by submitting the Beginning Freshman Scholarship application. Priority will be given to students completing the Beginning Freshman Scholarship Application by March 1. Qualified freshmen are encouraged to consider applying for the President Carter Leadership Program as well.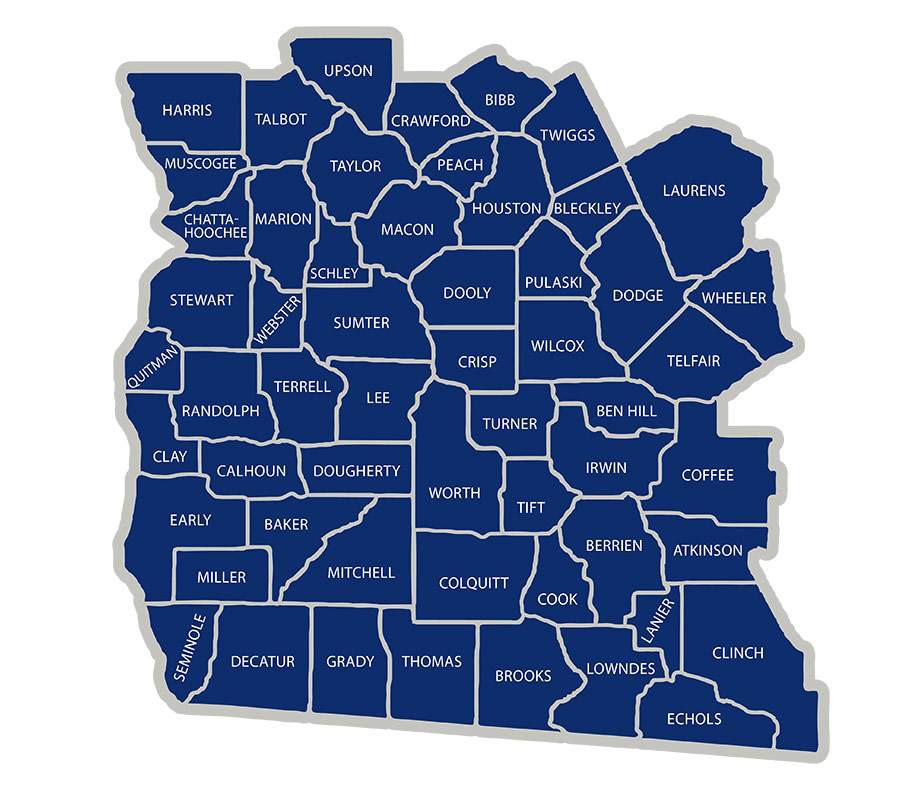 Promise Scholarship Requirements
Blue Level
$1,000

$1,000 Academic

1100 SAT or
22 ACT Composite (OR 3.5 GPA)

3.0 GPA

Gold Level
$2,000

$1,000 Academic
$1,000 On-Campus Housing

Minimum 1200 SAT or
25 ACT Composite

3.0 GPA
President Jimmy Carter Leadership Program - Mix Scholars
The President Carter Leadership Program honors the life and legacy of GSW alumnus and former U.S. President Jimmy Carter. Admitted freshmen students who have demonstrated a strong academic, service and leadership background are strongly encourage to apply. Students accepted into the Program become Mix Scholars and receive this scholarship. Recipients must meet program requirements, maintain a 3.0 grade point average or higher, and live on campus the first two years in order to extend the scholarship and may be extended all four years if requirements are met and maintained.
Leadership Program Requirements:
Minimum of 1100 total on the SAT or a composite score of 22 on the ACT
3.0 High School GPA
Completion of the Carter Leadership Application by March 1st deadline
Wheatley Special Talent - Art and Music
Students accepted to Southwestern by the February 1st scholarship deadline who indicate an intended major of art or music may be invited to the Southwestern Scholars Competition to have portfolios reviewed or music auditions for scholarships. Scholarship amounts are variable per academic year. Art and music students who have met the minimum academic qualifications should also complete the Beginning Freshmen Scholarship Application so they may also be considered for those awards.
Athletic Scholarships
Athletic scholarships are awarded by the athletic department. Students interested in becoming a Hurricane athlete should complete a "Prospective Student Athlete" form at www.gswcanes.com. 
John and Betty Pope Fellowships
The John and Betty Pope Caregivers Scholarship is designed to support students engaged in informal caregiving roles, while helping them learn about the importance of caregiving and ultimately reach their higher education goals. The scholarship encourages recipients to explore career opportunities within the care economy, as well as bring strengths and skills developed through their personal caregiving experiences to other fields. Interested students can apply for the Pope Scholarship online by March 15th.
Scholarship Requirements:
Enrollment in a minimum of 12 credit hours each semester (undergraduate) or 9 credit hours (graduate) for a full award. Students who are unable to maintain full-time status due to caregiving-related duties are encouraged to apply as well and, dependent on annual funding availability, partial awards may be considered.
Provide a narrative description of the applicant's interests, experience, and aspirations related to caregiving. Applicants are encouraged to consider how their caregiving experience has shaped their interests and how it will impact their future work as well as the work of current and future caregivers.

Three letters of recommendation from an individual familiar with the applicant's academic, professional, and/or caregiving background. At least one must be focused on their caregiving background. Candidates are discouraged from submitting a letter from a family member, but these can be accepted.

Provide a resume that is tailored to the student's personal and/or professional caregiving experience as well as volunteer activities, special projects, and any other relevant information.
Goizueta Latino Student
The Goizueta Foundation of Atlanta established a scholarship to provide need-based assistance annually to Hispanic/Latino students whose families currently reside in the United States. Students must complete the following
application
.
Scholarship is available to both documented and undocumented students

$1000 - $1500 per academic year and renewable with application

Application deadline is May 15th

Awards are based partially on Financial need
Alumni Legacy Scholarship
In an effort to increase enrollment and retention of students at GSW, the Alumni Association utilizes donations to offer scholarships to incoming and current students with family members who are alumni. For more information, contact Angela Smith at angela.smith@gsw.edu.
scholarship application for the 2022-23 academic year is now open. Students must complete the following online application. Submissions will be accepted until 5:00 pm EST on February 15, 2022.
Scholarship Requirements:
Award may be reapplied for each year but re-application is required annually
Must be a family member of a Southwestern alumnus or referred by an alumnus
Recipients are required to attend at least two Alumni Association events during the year